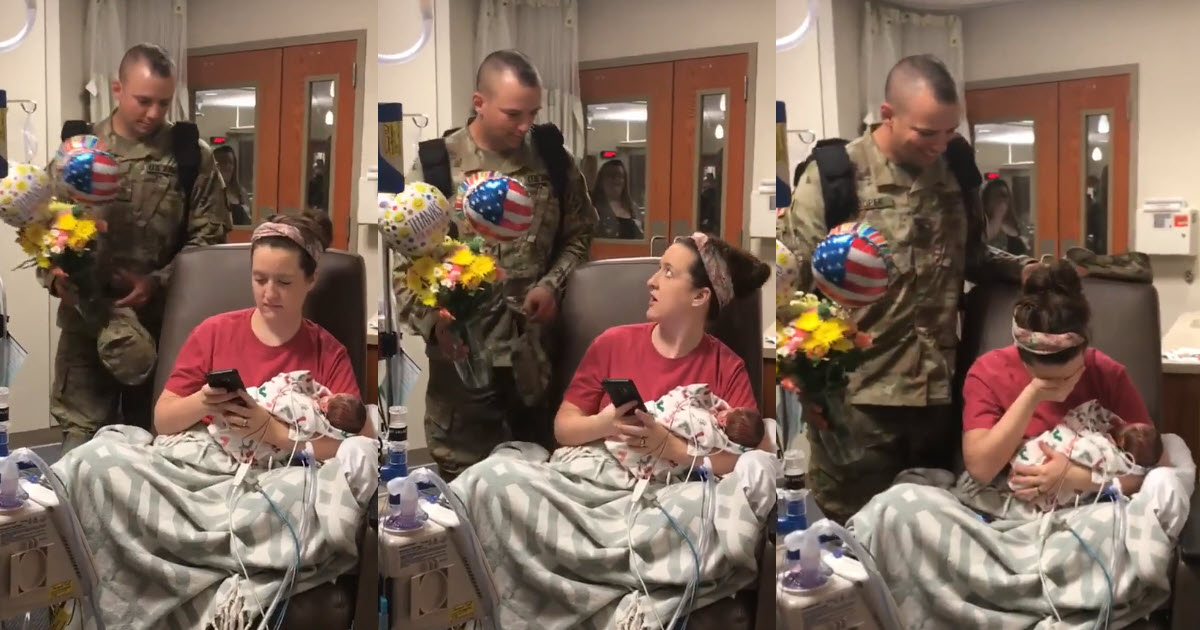 U.S Army Staff Sgt. Skyler Cooker was serving his country while deployed in Kuwait while his wife was pregnant for the second time. But, not only was Cydeny cooper pregnant with twin girls, but she was also raising their twin boys all by herself!
As her due date drew near, Cydney caught the flue. Because of her illness at 33 weeks their twin daughters, Kayla and Emma were born prematurely.[1]
Skyler had not been able to come home to Kansas in time for the birth of his twin girls. But, he called, texted, and video-chatted as much as possible.
Cydney was ever grateful to see Skyla and Emma getting healthier and stronger day by day. She could not wait for their dad to finally met their little angels.
During the 12 days of the twins' stay in the NICU, Cydney was cradling one of the twins in one hand and had her phone in the other. She had been texting back and forth with Skyler all day, who was eagerly asking for updates and photos of his girls.
Cydney was in the middle of texting her husband back while sitting in the NICU room with her back to the door.
That's when a nurse walked in with a huge surprise. The happy mom wrote about the heartwarming reunion in a Facebook post that has since gone viral.
"1 year of crazy, 1000s of miles, 1 solo pregnancy and delivery, 48392 Skype calls, some superheroes, a few plane rides, 12 NICU days, tons of help from family and friends, and many tears."[2]
You can watch the full video of their tearful reunion below.
Thanks for Reading. Please be sure to pass this heartwarming story along to your friends and family?
Sources:
"Wife Texts Deployed Husband About Their Newborn Twins, Unaware He's Standing Behind Her" Little Things. Amy P. March 15, 2022.
Facebook Post. Video Credit: Cindy Cooper.