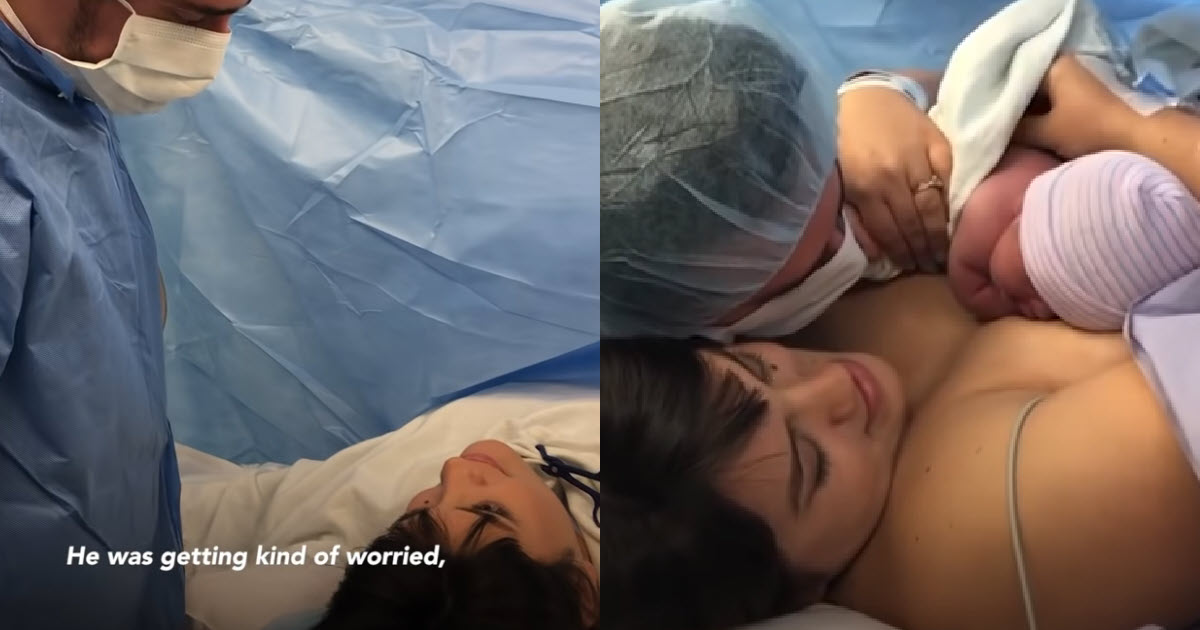 A mother is sharing a special message from the heart after, upon giving birth, she learned her baby had Down syndrome so she could change the way people felt about it.
A video of Kati Martinez giving birth was shared on GMA, where viewers got to see the moment she learned something unexpected took place in the delivery room.
Kati had gotten pregnant two years ago with her son Micah, and after her delivery, the room began filling up with NICU nurses and doctors.
Her husband was also present, wearing a mask, and she was having trouble understanding what he was saying.
When doctors finally handed her Micah, she understood immediately that her son had down syndrome. The emotions the couple experienced at this moment ranged from alarm, happiness, peace, confusion, and fear all mixed together. But, at the same time, Kati knew that everything was going to be okay.
People with down syndrome are often looked down upon and held back by a society ignorant of their condition. They are often made to feel that they are unable to do what other people can. But today, stories like Kati's are changing the way people see these amazing children. And adults with the condition are breaking new barriers forging the way ahead for babies like Micah.
Kati also shares how she's amazed by Micah's intelligence. In one example, she recalls emptying all the blocks of a puzzle, and Micah diligently put the puzzle back together. The little boy also loves playing with their dog Otis and leads a pretty normal life for a toddler.
Today, Micah is a sweet and very active two-year-old who loves playing with and showing affection to his baby sister, who kisses him right back.
Micah is truly blessed to have Kati and his dad as parents, as they wish for him to grow up healthy, work, and one day fall in love and get married.
This inspirational story has also touched the hearts of thousands worldwide, and many are sharing their own experience raising down syndrome children or others they know.
One commenter said:
"There's a man at my job that has Down syndrome. He drives, he works and he's the sweetest man at my job."[1]

Another wrote, "I found out my daughter had Down syndrome at birth. I can literally feel every emotion all over again when your husband was looking at you trying to tell you they think he has Down syndrome. That feeling … of the unknown, the surprise, happinesses, fear. All wrapped in one. My daughter is now 4 & I wouldn't change a thing. I count her as one of my biggest blessings.. God knows exactly what he is doing."

One more wrote, "My grandson has Down syndrome but we don't call that, we call Up syndrome. He is very smart and loving sweet young gentleman. We have learn so much in his 6 years he love to play jokes on people and I am usually the one he gets all the time. I wouldn't change anything I love my baby to the moon and back."
Stories like these continue to help uplift people living with the same experiences in a big way.
You can also watch a video about this story below.
Thanks for reading. Please be so kind as to pass this story along to your friends and family?
Source:
"Mom Learns Shocking Fact About Newborn Son, Now It's A Message Of Hope For Many Moms" Faithpot. Faithpot. March 26, 2022.